I remember when having a personal brand was reserved solely for big-name celebrities.
Back in the 90s, you had to be an Oprah-level figure to have your own discernible brand.
But the Internet has changed that.
It's made personal branding viable for pretty much everyone, provided you put in the time and energy.
That's why you see people go from relative obscurity to borderline celebrities quite frequently.
A good example of that is Pat Flynn of Smart Passive Income.
I remember the time when he was blogging about basic online money-making techniques and had only a tiny following.
Now, he's crushing it.
He's writing books, giving lectures, running a podcast and has a massive following.
Of course, he creates great content, but I'd say his success is largely due to his rock-solid personal branding.
And when you get right down to it, the Internet is your vessel for establishing a personal brand.
You just need to know how to properly utilize it.
In this post, I provide you with an essential checklist for establishing your personal brand.
I'm going to point out specific platforms you can leverage to build your presence and get noticed.
I'm also going to outline the correct sequence you should follow to build your brand step by step.
Let's get to it.
Establish a brand identity
Before you can do anything else, you need to know what you're trying to achieve.
How do you want people to perceive you?
What do you want people to associate your personal brand with?
You'll want to give plenty of consideration to this because it will shape your entire approach.
I suggest pinpointing a few specific areas you want your name to be synonymous with and focusing on them.
Choose your niche
Seldom do you see individuals with huge personal brands having their hands in everything.
If I've learned anything over the years, it's that spreading yourself too thin is often a recipe for disaster.
Instead, you're better off focusing on a specific niche.
"Niching down" enables you to develop a close association between your name and a certain topic.
Take Marie Kondo for instance.
She's known for her unique method of organizing and tidying—the KonMari Method.
She's written books about these topics, created an app and is a consultant.
Marie has a very precise niche, and she doesn't deviate from it.
I recommend taking the same approach.
If you want to branch out later on, that's fine.
But initially, you want to zero in on a specific niche.
And ideally, it will be something you're passionate about because this will help sustain you in the long run.
Find your unique voice
Let me preface this by saying it takes time to establish your voice.
I find it's an organic process that unfolds over time.
But you'll want to have a basic idea of what you're going for right out of the gate.
Do you want to sound kind, compassionate and enlightened?
That's pretty much the voice of Leo Babauta of Zen Habits:
Or are you naturally a little snarky and cynical and prefer to keep things a bit edgy?
That's how I would define Ashley Ambirge of The Middle Finger Project:
I find you're usually better off sticking with your true personality and letting that define your voice.
This makes it much easier to be authentic, which is one of the top things people look for in a brand.
It doesn't really matter what type of voice you go for, just stick with it, cultivating it over time.
Design a logo
Let's get down to the nitty-gritty.
Your logo is huge and one of the most vital branding elements.
I prefer to keep mine simple, like this: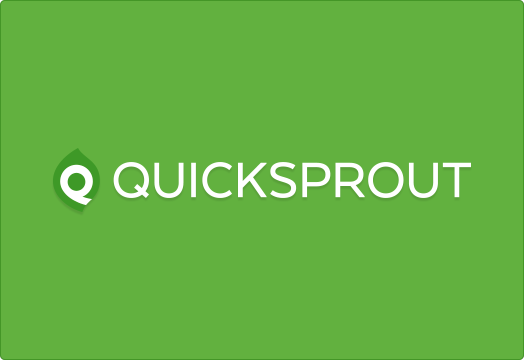 But go with whatever makes sense for your brand.
If design isn't your thing, you may want to find a professional designer.
Or use a free platform, like Canva, to create your own design from scratch.
You can choose from pre-made templates or set your own custom dimensions.
I also recommend reading this post from Creative Bloq for logo design tips.
Create a website
A professional, functional website is integral to your personal brand.
Don't skimp on this.
Some people are reluctant to pay for hosting because they can create a basic website with WordPress, Blogger, Tumblr or a similar platform.
But I highly suggest you get your own domain.
After all, would you take me seriously if my website URL was quicksprout.wordpress.com rather than quicksprout.com?
Probably not.
Besides, you'll have limited functionality.
For more on building your first website, check out this post I wrote.
Also, be sure your site incorporates the same color scheme as your logo.
Like this:
It typically takes five to seven impressions for someone to remember a brand, so it's crucial that you keep it consistent and make yourself recognizable.
Choose your content mediums
I don't need to tell you how much I love content marketing.
It's easily the greatest marketing strategy of the 21st century!
It also "costs 62% less than traditional marketing and generates about three times as many leads."
One of the best ways to establish yourself as an expert in your niche (or at least as someone worth paying attention to) is to create quality content.
That's how I got to where I'm today.
I got into the habit of creating quality content—and a high volume of it.
But with so many mediums available, you need to pick and choose which ones you want to focus on.
For me, long-form blog content has become my bread and butter.
Seth Godin opts for short blurbs:
A big part of Tim Ferriss' success (besides his books) has been his podcast, The Tim Ferriss Show.
His podcast is one of the top-rated in the world and has helped him solidify his personal brand.
What I'm trying to say here is you should choose a few different content mediums to focus your attention on.
If you're not sure where to start, take a look at some of the top content marketing trends of 2017.
Consistently creating great content kills two birds with one stone:
it brings exposure to your personal brand and
it helps create a strong association between your name and a particular area.
Choose your social platforms
Then, there's the issue of social.
Of course, you'll want to be active on at least a couple of networks to bring attention to your brand and to network with others in your niche.
However, you don't want to be active on so many networks that you end up spreading yourself too thin.
Just be sure you choose networks that your target audience is most active on.
For instance, Pinterest would probably be a good choice if you're in the fashion or culinary niche.
If you're not sure which social sites are worth your time, here are a couple of graphs that show which networks have been most popular in 2017:
I'd also like to point out how powerful Quora can be in helping you build credibility and authority.
At the moment, it's not as big as the juggernauts listed above, but I've found it to be extremely helpful.
And it's absolutely perfect for attracting referral traffic.
I suggest checking out Quora and getting in the habit of providing high level answers to people's questions.
Choose your social handles
There's another small but crucial aspect of social you shouldn't overlook.
Choosing uniform handles.
Ideally, they'll be exactly the same across every single network so that there's zero deviation.
I understand it might not be easy to have exactly the same handle across several different networks.
But strive to make them as uniform as possible so you can create uniformity and avoid confusing your audience.
Use a killer head shot
As I mentioned before, consistency is key.
This is why I can't stress enough just how important it is to have a high-quality, professional head shot.
You'll want to feature it on your website, your social profiles, email, etc. so that people can recognize you instantly.
Once again, I recommend keeping it simple.
For tips on getting a great head shot, check out this post.
Select a branded email address
There's one last thing I would like to point out.
Your email address should include your name.
One option is to simply include it like this:
john.q.public@gmail.com
The other (and better option) is to use your name in the email domain.
It would look like this:
john@johnqpublic.com
This looks extremely professional and will help reinforce your brand identity.
Check out this article from ProBlogger to learn how to set up an email account that uses your domain name.
Conclusion
Let me just say that effective brand building is a process.
There is no magic bullet, and it's going to take time.
Sometimes, it even takes years, depending on the level you're trying to reach.
But you can streamline things considerably by understanding the formula behind personal brand building and following it.
The checklist I covered here includes the essentials and should serve as a blueprint.
It's not the be-all and end-all guide, but it will definitely get things going.